CRO Audit Checklist
We have built the most comprehensive ecommerce checklist, full of 291 clear and actionable steps You can take to significantly increase Your conversion rate today.
Instant DeliveryChecklist will be sent to your email automatically after placing the order.
Checklist for Every Page Includes a to-do list for every page in Your online store.
Google Sheets & Notion File Includes a checklist for both Google Sheets and Notion.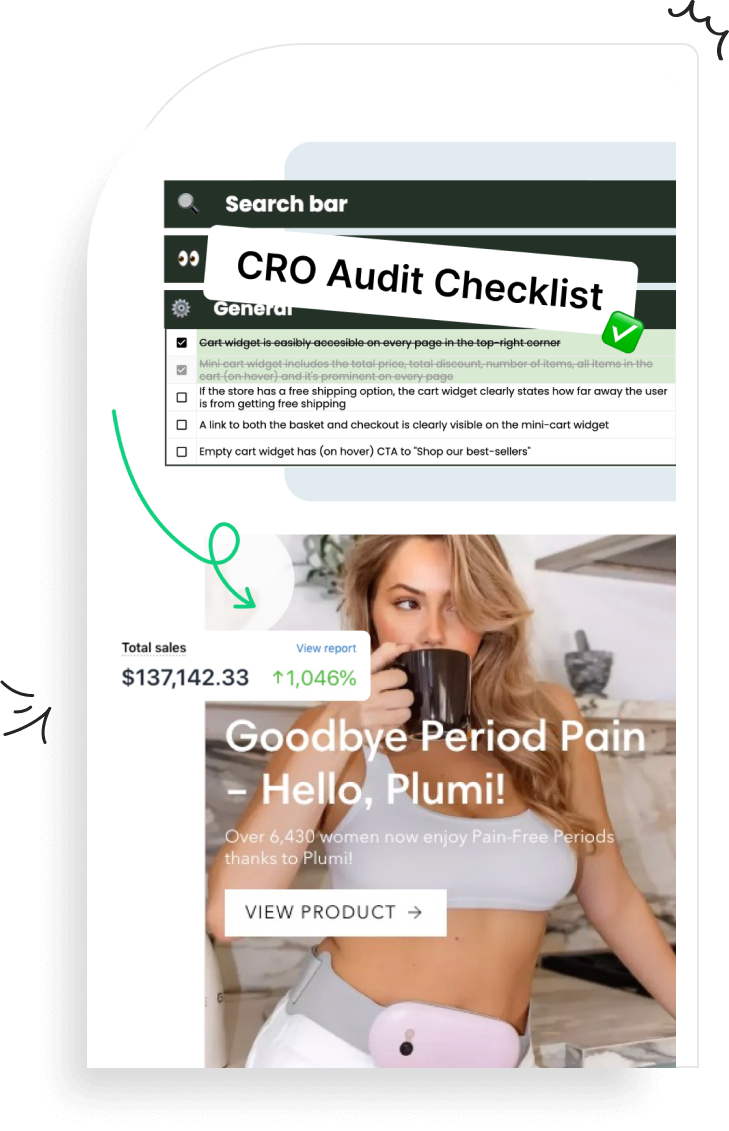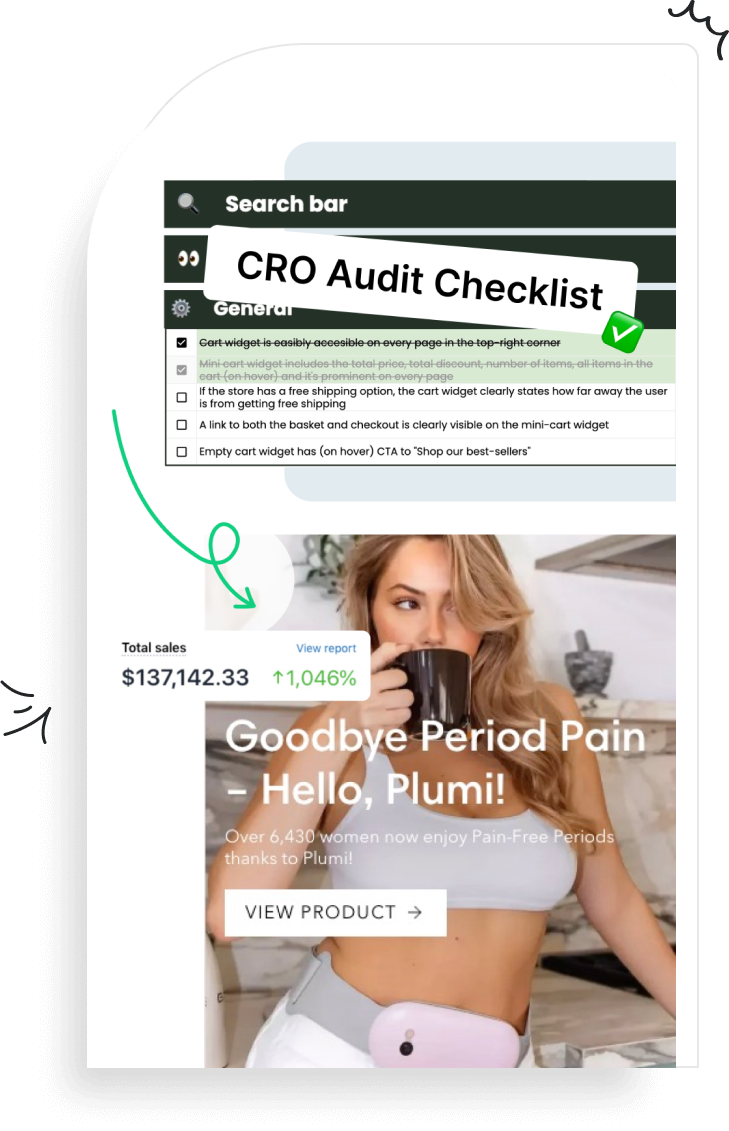 See all the quick-wins You can implement right now that will exponentially grow Your monthly recurring revenue.
Includes 291 critical checkpoints that cover every nook-and-cranny of Your store's conversion process.
E-Commerce Checklist Preview
⚠️ STOP leaving money on the table.
Use this ecommerce CRO audit to determine the weak spots in Your conversion funnel that are causing You to leave money on the table.
🛑 Most conversion-killing mistakes boil down to the basics. The checklist will show you all the quick-wins you can implement right now to significantly increase your average order value and conversion rates.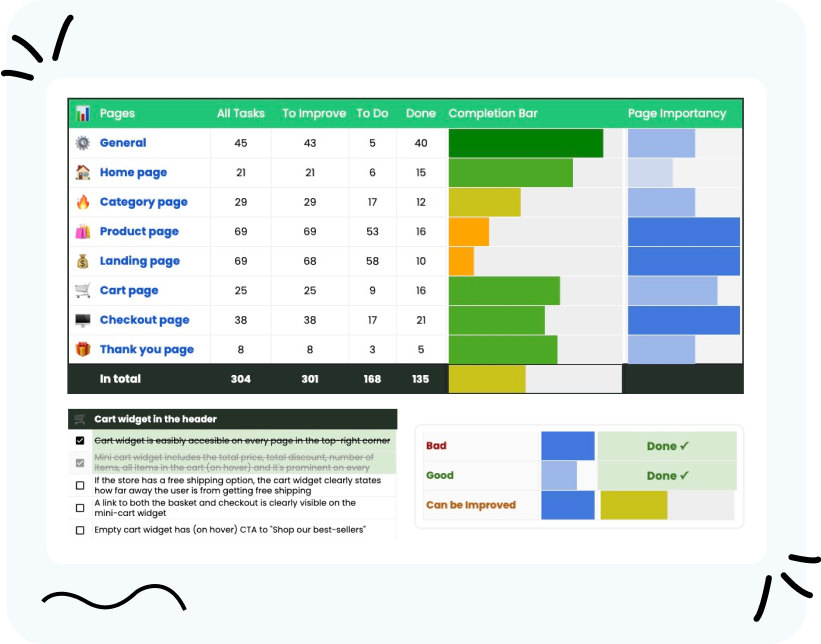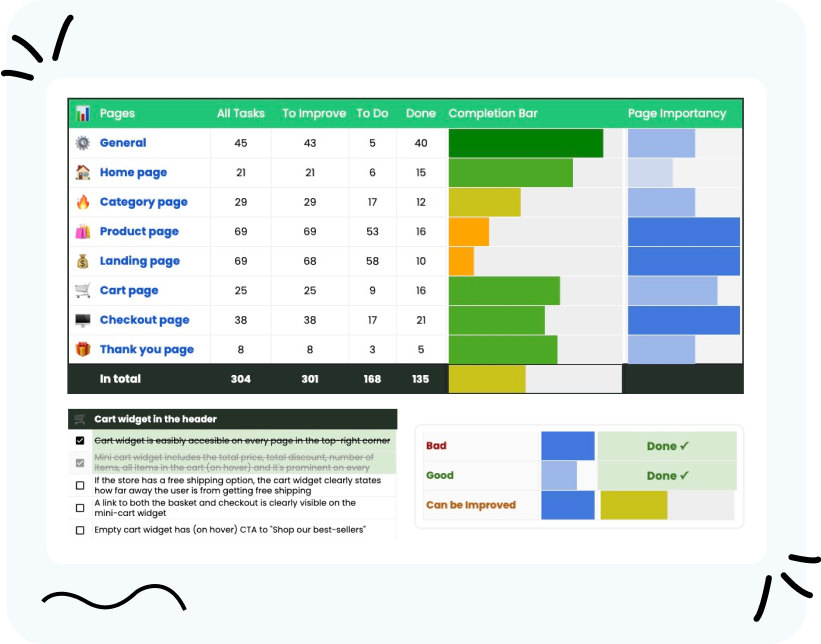 The 3 Biggest Mistakes Most Online Stores Make
With 13 years of experience in working with ecommerce clients, we learned that most conversion-killing mistakes boil down to the basics.
If your store is difficult to navigate and does not have a clear conversion funnel for Your visitor to follow, then You are missing out on extra revenue.
Having worked with dozens of online stores We've noticed that almost ALL of them are making the same 3 conversion-killing mistakes.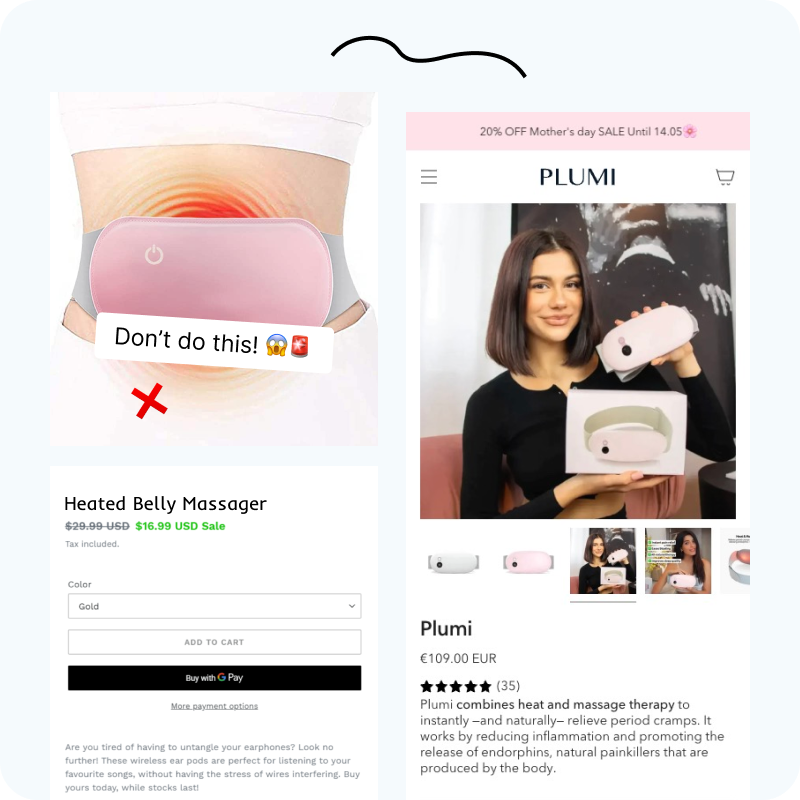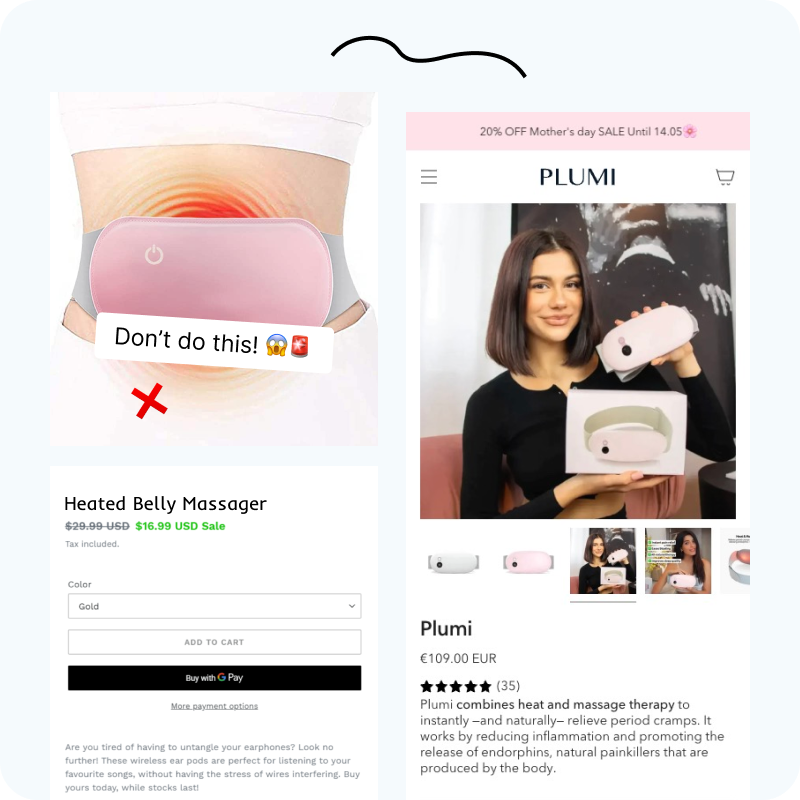 Here are the 3 biggest mistakes
☑️ Your website is cluttered
☑️ Your Mobile Experience is Broken
🔲 Your checkout process is too complicated
THIS is Where CRO Comes In.
With a high-converting store, You are going to see a rapid and substantial decrease in the costs associated with acquiring customers, while also seeing a significant boost in your average order value. Together, these two effects can help your advertising campaigns become much more effective.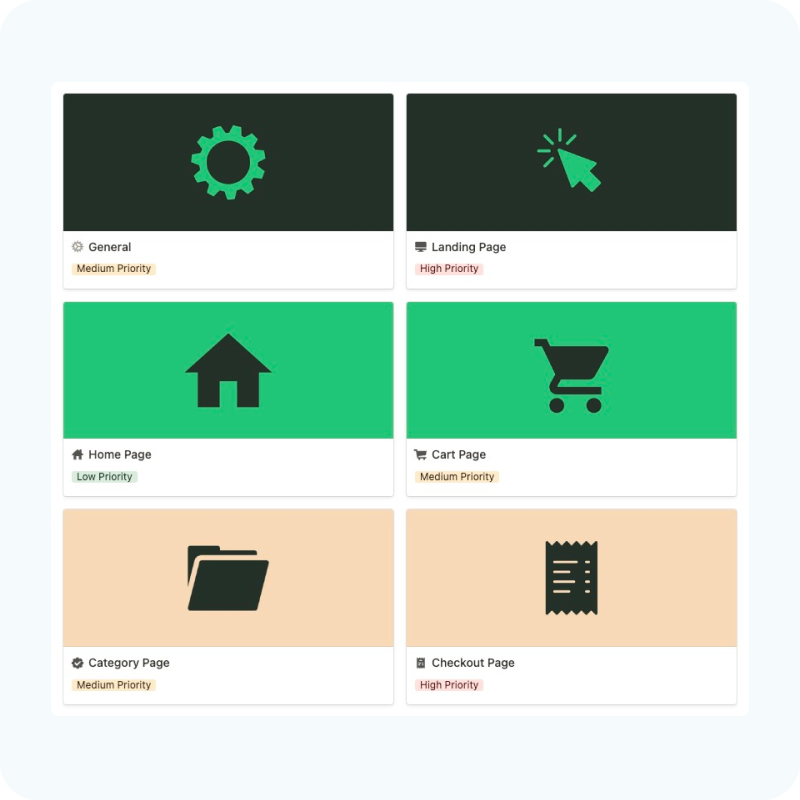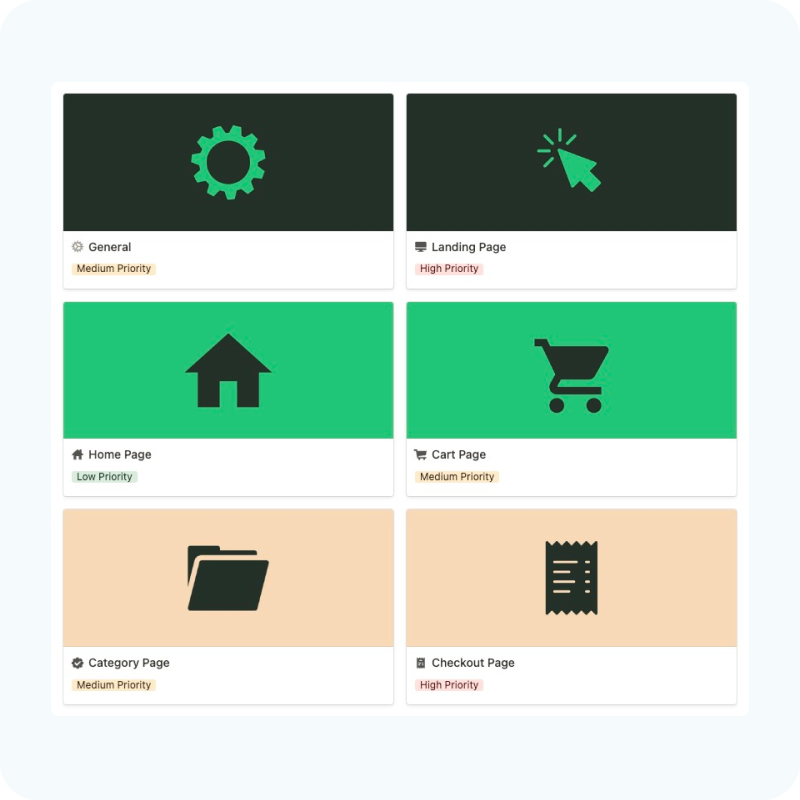 Find The Lowest-Hanging Fruit in Your Online Store
If you do choose to purchase our Conversion Checklist, but find it to be unhelpful and confusing, you won't have made any progress toward your objectives. To prevent this from happening, We made sure the checklist is straightforward and easy to comprehend for even beginners in dropshipping.
This checklist will give you clear, actionable steps that will:
You'll have access to more than 300 critical checkpoints and over 13 years of our expertise in conversion rate optimisation. You'll be able to optimize each store element to maximize your conversion rates. This checklist will provide you with clear instructions on which steps you should prioritize so You can focus your efforts on implementing the changes that require minimal effort but will yield the most significant improvements in your conversion rates.
☑️ Lower Your Customer Acquisition Costs
Choose your niche & the amount of products to sell in Your store.
☑️ Increase your average order value
Your Shopify and Gmail login details will be sent to you directly as soon as the once the store is ready. If you need us to revise anything, just contact us.
☑️ Skyrocket Your Sales.
Now you're ready to make your first sale. Time to launch Your first ad campaign and start funneling traffic to Your new, beautiful online store.
Got some remaining questions?
Here are answers to some of the most frequently asked questions we get regarding this ecommerce checklist.
No. This checklist is not tied to any selling platform. It's helpful for all online business owners. and includes tactics You can implement on all selling platforms.
Yes! And especially so, since if. you are on a limited budget and can't afford to spend millions on marketing, then it's especially important for You to improve Your conversion rate and generate as much sales as possible without increasing spending on advertising
The checklist will be delivered to your email instantly after You have placed your order. You can then download and duplicate the Notion or Google Sheets checklist to Your own account and start editing it.
We put a lot of effort into making sure our checklist stays up to date with the ever-changing landscape of ecommerce. That's why we update this checklist with new conversion improvements at least once per month.